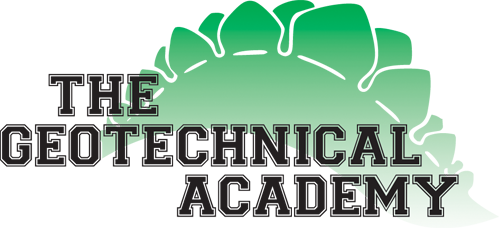 The Geotechnical Academy
The Geotechnical Academy is a unique geotechnical training facility which offers a dynamic learning experience through: Knowledge transfer, practicals, debate, discussion, demonstrations and shared learning.
The Academy is a collaboration between the UK's leading independent geotechnical and drilling training provider, Equipe Training, and one of the UK's leading geotechnical contractors, Geotechnical Engineering. This unique combination allows the course to be fundamentally vocational whilst at the same time being cutting edge.
Visit the Geotechnical Academy website for full course details.
The Module outline for the full Geotechnical Academy programme is provided below.

Course Outline
Module 1 How to Plan and Manage Geotechnical Works
This module looks at the structure of a typical geotechnical investigation, the process and the parties involved. The main purpose of the day is to increase awareness of the investigation techniques available together with their advantages and limitations.
Session 1: Introductions; Aims and objectives of The Geotechnical Academy; Reasons for investigation; the structure of a site investigation: desk study, preliminary, main and supplementary; Methods of investigation and sampling: drilling, boring, dynamic sampling, sonic drilling and static cone testing.
Session 2: Guest speaker.
Session 3: Practical demonstrations: typical investigation plant and methods.
Session 4: Contracts and specifications. Practical exercise designing and costing a GI.
Module 2 Working Safely on Geotechnical Sites
This Health and Safety awareness day covers the typical hazards likely to be encountered on an operational site, but more importantly also covers the significant hazards likely to be encountered around drilling rigs, excavations etc. Delegates will be introduced to the legislation which is relevant to geotechnical sites.
Session 1: Hazards and risks involved around the working site, focusing on rigs and other equipment used; Risks arising from the ground including contamination, ground gases and services, excavations, slopes, ground water, stability; Responsibilities and CDM; The use of PPE.
Session 2: Guest speaker.
Session 3: A practical look at equipment particularly concentrating on how to identify risk.
Session 4: Legislation, myths and the truth.
Module 3 How to Choose the Optimum Drilling Method
Delegates will be made aware of the variety of plant and equipment available, including industry innovations. There will be practical demonstrations of different drilling equipment and methods.
Session 1: Choosing the right method from the multitude of rigs with different capabilities; a look at the various methods and what they can offer: depth diameter, sample quality and method flexibility; Improving recovery and quality.
Session 2 & 3: Site visit to a local site and the GEL yard for a detailed look at the equipment: advantages and disadvantages.
Session 4: Delivery of the required quality: sample class and methods; Discussion of EC7 and 22475 part 1, 2, 3; the role of contract document in relation to the drilling process.
Module 4 Understanding In Situ Testing
The day provides a practical overview of in situ tests including density, NDG, CBR, plate bearing tests, dynamic probing, SPTs, permeability, and pressuremeter as well as the equipment needed, how to set it up and the factors to look for to make sure that results are correct.

To be presented at Equipe Training, Banbury where a major CPT operator will provide a CPT truck and demonstrate CPT testing.
Session 1: Insitu testing methods; practical considerations; calculation and interpretation of the results.
Session 2: A visual examination of in situ testing equipment.
Session 3: CPT Testing.
Session 4: Choosing between quality sampling and in situ testing and between field testing and laboratory testing.
Module 5 Soil and Rock Logging
The day provides a practical overview of soil and rock logging to BS EN ISO 14688-1 and BS EN ISO 14689-1. It will look at the Health and Safety aspects of logging, basic soil types and their engineering properties, rock lithology and the mechanical logging of cores including sample disturbance.
Session 1: An introduction to soil and rock logging, European Standards and how they are applied in the UK.
Session 2: A practical session of soil logging.
Session 3: A practical session of rock logging.
Session 4: The practical application of reading geological maps and memoirs.
Module 6 Understanding Contaminated Land
An introduction to Contaminated Land, including legislation, Health and Safety, the value of a Phase 1 desk study, a phased approach to investigation, the common types of contaminated sites, asbestos and quality laboratory testing.

To be presented at a major contaminated land testing facility in the North-West of the UK.
Sessions 1: Legislation, H & S, PPE, desk studies, contamination types and methods of testing.
Session 2: A guided tour of the testing facilities..
Session 3: Lunch.
Session 4: Practical activity and discussion.
Module 7 Getting the Most from your Instrumentation
An introduction to the design of instrumentation projects, including an overview of available hardware (i.e. piezometers, standpipes, inclinometers and extensometers), discussion of the fully grouted method for installations and the purpose of monitoring.
Session 1: Reasons for installation; Practicalities of installation for various types of instrument, including piezometers standpipes, other water level installations, inclinometers, extensometers; How to specify and what to expect from the results.
Session 2: Site visit to a local active landslip.
Session 3: Installations and taking readings from installed equipment.
Session 4: Practical exercise designing instrumentation for a road project.
Module 8 Getting it Right - Parameters for Laboratory Testing
An examination of the tests which are routinely carried out in the laboratory, including classification, earthworks, strength and environmental tests; the specification of tests and what to expect from the results.
Sessions 1: Tests which are commonly scheduled: sampling requirements; Limitations of the tests and what results to expect.
Session 2: Practical sessions in the test lab throughout the day complimenting the theoretical teaching.
Session 3: A discussion of the key issues relating to sample quality and quantity.
Module 9 Developing the Ground Model
This module will consolidate the previous six modules and focus on how geotechnical and geoenvironmental data can be brought together to help build a full and coherent understanding of a site.
Session 1: Developing the ground model: introducing some useful tools and methods of gathering information to create a useable and coherent picture; Understanding the interaction between data sets and how these can influence the design; Filling in the gaps, extrapolation and interpretation; Geohazards and their identification.
Session 2: Local site visit looking at a reclaimed canal with associated geotechnical structures, invasive species etc., plus derelict sections of the canal.
Session 3: Deciding whether to separate geotechnical from geoenvironmental investigations.
Module 10 How to Identify and Manage Risk
Risk in the contract process: tenders, specification, conditions of contract; How to set about designing an investigation; Identifying risks, choice of methods, constraints to design - access, cost and availability.
Session 1: The contract process and the risks involved; assessing contractors, identifying problems.
Session 2:Guest speaker.
Session 3: Presentation of delegate certificates.
Session 4: Practical exercise - Contractor versus consultants.
Register your interest for the Geotechnical Academy here.
www.geotechnicalacademy.co.uk