theGeotechnica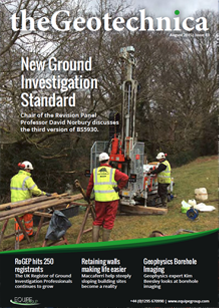 theGeotechnica is a concept e-magazine aimed at the Geotechnical, Environmental and Drilling industry. The magazine is aimed at practitioners: whether you are a Geologist, Scientist or Geotechnical Engineer; Designer or Consultant; Driller or Site Operative - theGeotechnica has something to interest you. We bring you news from all sectors of our community.
How much is it?
theGeotechnica is FREE to all subscribers to allow invaluable content and important messages to be distributed more readily. Just sign up here and you will receive your copy every month absolutely free.
What's the content?
The content is your news: If you have information or views that you wish to share, then we want to hear from you. Every month there is useful information and articles, aimed at aiding and dealing with the practical issues which affect our industry. There are also editorial columns and articles from invited contributors.
What about advertising?
theGeotechnica carries advertisements at rates you can afford. You can advertise your services on a full, half or a quarter page or as part of the Services Directory. In addition theGeotechnica carries advertisements for items that are for sale or hire and if you are looking for staff there is a section for recruitment. For more information about advertising in theGeotechnica, or for our full advertising rates, please email: magazine@geotechnica.co.uk.
This Month
We are very pleased to provide Issue 60 of theGeotechnica which this month includes: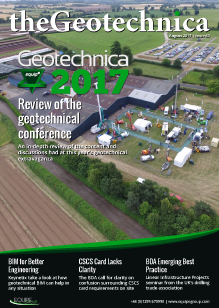 - How Geotechnical BIM Can Lead to Better Engineering - In the first entry into this month's issue of theGeotechnica, geotechnical data specialists Keynetix examine the importance of Geotechnical BIM and the value it can hold.
- Calling for Clarity: CSCS Card Confusion - Following changes made to their carding scheme, BDA Members are calling upon CSCS to end confusion regarding non-construction related staff being granted access to sites. Since the changes came into place, non-construction personnel have been denied access to sites across the country due to not having a relevant CSCS card.
- Geotechnica 2017 Conference Review: 2020 Vision for the Geotechnical Industry - The following article is an overview of the content and discussions had at the geotechnical conference portion of Geotechnica 2017 - the UK's largest geotechnical conference and exhibition. The presentation slides from the event can be found on the Geotechnica 2017 website here.
To view this month's issue of theGeotechnica as a Flipbook, click here...
To view this month's issue of theGeotechnica as a PDF, click here...
Sign Up
Signing up to recieve theGeotechnica every month couldn't be easier. Simply click the link below and fill out the corresponding form. This will automatically add you to our mailing list and ensure that you recieve a copy of theGeotechnica into your email inbox immediately after its release to the public.
Click here to sign up to recieve your FREE monthy edition of theGeotechnica...