About the Equipe Group
Equipe was established in 2008 by three of the UK's leading senior managers in the field of geotechnics and drilling - Julian Lovell, Peter Reading and Keith Spires. All three are passionate about the industry that they have dedicated their working lives to. We are now one of the leading lights in the sustained development and growth of the geotechnical and drilling sectors. Offering a vast array of services, our expertise ranges from Training, to Geosolutions, to Consultancy and Recruitment - and everything in between.
Equipe Training
The main branch, as well as the seed from which the Equipe Group blossomed, Equipe Training provide unrivalled training and assessment for the UK's drilling, geotechnical and health and safety industries.
Equipe Training provide a professional, comprehensive and independent training and assessment service covering drilling, laboratory testing and geotechnics which is delivered either from its base on the Upton Estate, or from selected facilities throughout the UK and Ireland.
The courses are vocational and have been developed to provide key skills through to advanced training for drillers, undergraduates, technicians, earth scientists, geologists and engineers who wish to start or progress their careers in drilling and geotechnics. Equipe Training has partnered with the UK's leading manufacturers, suppliers and a number of independent consultants to ensure that the courses are delivered by trainers with real experience and knowledge and the course content contains up to date content.
The company has established a unique facility which incorporates state of the art conference facilities with up to date plant and equipment for the practical experience. Equipe Training provides the global benchmark for designing and delivering vocational training and continual assessment in drilling and geotechnics. From its base, The Paddocks, it offers a unique blend of conference facilities together with specially selected areas for hands on sessions.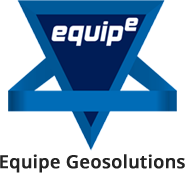 Equipe Geosolutions
Equipe Geosolutions have a massive wealth of experience and expertise which is used to provide and create geosolutions. We benefit from being independent and have a vast network of contacts and experts from not only industry but also from academia, manufacturers and suppliers.
We have used this vast breadth of knowledge and unique insight into the geotechnics and drilling industry to develop and introduce new products. All of these products provide real solutions to real problems. Our flagship product KeyLogbook is currently filtering its way into the market and is fast making a real impact on companies on-site efficiency with less time spent writing logs and more time drilling.